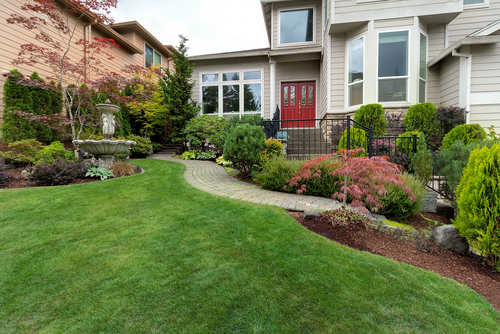 Tree & Shrub Fertilization Service Plus Pest Control & Fungus Treatments
At Greentech Lawn and Irrigation we know a healthy, lush lawn is just one part of a fully landscaped yard.  Your small trees and ornamental shrubs are also a contributing factor to your outdoor enjoyment.
With over 33 years in the lawn and landscaping business, Greentech Lawn and Irrigation has created comprehensive and customized plans for optimal tree and shrub service. Our friendly professionals will assess your needs properly to nourish, feed, and keep away harmful tree and shrub pests.
Insect and Disease Control For Proper Tree & Shrub Care
A variety of fungi, diseases, or pests could invade your trees and shrubs and cause widespread damage or even death to your greenery. The experts at Greentech Lawn and Irrigation will assess the types of pests or diseases harming your trees and shrubs.  
We'll build an individual plan that will destroy the offenders and create healthy trees and shrubs that continue to grow and flourish.
Early Spring

Spraying dormant oil will kill overwintering insects and their eggs to stop pests in their tracks and encourage healthy plant growth.
Spring/Fall Deep Fertilization

To promote robust growth all year round your trees and shrubs need proper nourishment.  The experts at Greentech Lawn and Irrigation will apply the optimal tree and shrub fertilizer and ensure nutrients reach all the way down to the plant roots.
All Year Protection

The experts at Greentech Lawn and Irrigation will assess your trees and shrubs for damage from pests and disease. We'll determine if your greenery could benefit from one of our custom spray application programs designed to eliminate pests and disease.
Integrated Pest Management
Greentech Lawn and Irrigation will evaluate your tree and shrub pest control needs and devise the solution that's best for your plants.  We'll spray only when needed; we definitely won't spray an area unless we have to.  Less spraying equals less unnecessary chemicals looming in and around your foliage.
Connect With Us Today
At Greentech Lawn and Irrigation we want you to benefit from the added bonus and beauty of healthy trees and shrubs.
Fill out our secure online form or call and speak to one of our friendly professionals now!
Contact us today to get the perfect program for your yard.