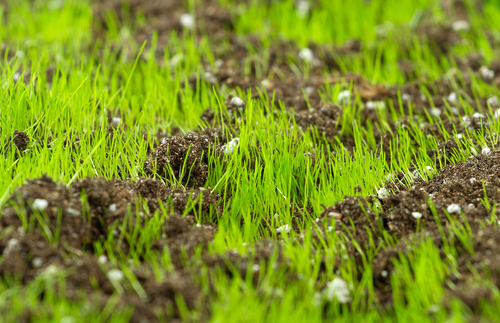 Lawn Aeration, Overseeding, Slice Seeding, Hydroseeding, & Sod
Greentech Lawn and Irrigation has prevailed in the lawn care and landscaping business for 33+ years.  We're the experts in growing and repairing lawns all over the Miami Valley.
We're continually educating our knowledgeable staff about the latest seeding and sod techniques to provide our customers with optimal seeding and sod treatment plans.
Comprehensive Seeding Treatments
A variety of factors come into play when your lawn needs to be re-seeded.  At Greentech Lawn and Irrigation we use the highest quality seeds and sod and have perfected optimal seed and sod treatments that include:
Lawn Aeration:
This process increases the surface area of your lawn and improves the penetration and accessibility of water and nutrients down to the roots of the grass.  A healthy lawn starts with the roots and aeration allows nutrients to reach them quickly.
Overseeding:
In tandem with aeration, we apply grass seed over your existing lawn to fill in ugly bare spots to rejuvenate your lawn.
Slice Seeding:
This method of planting grass seed will precisely send the seeds deep down into the soil for the best chance at germination and healthy new grass growth.
Hydroseeding
Our hydroseeding service is another great option to get your lawn seeded. This includes spraying prepped soil with a hydro mulch and seed mix. Your lawn seeding will be done quickly and efficiently with our hydroseeding service. You can expect great results that you'll love!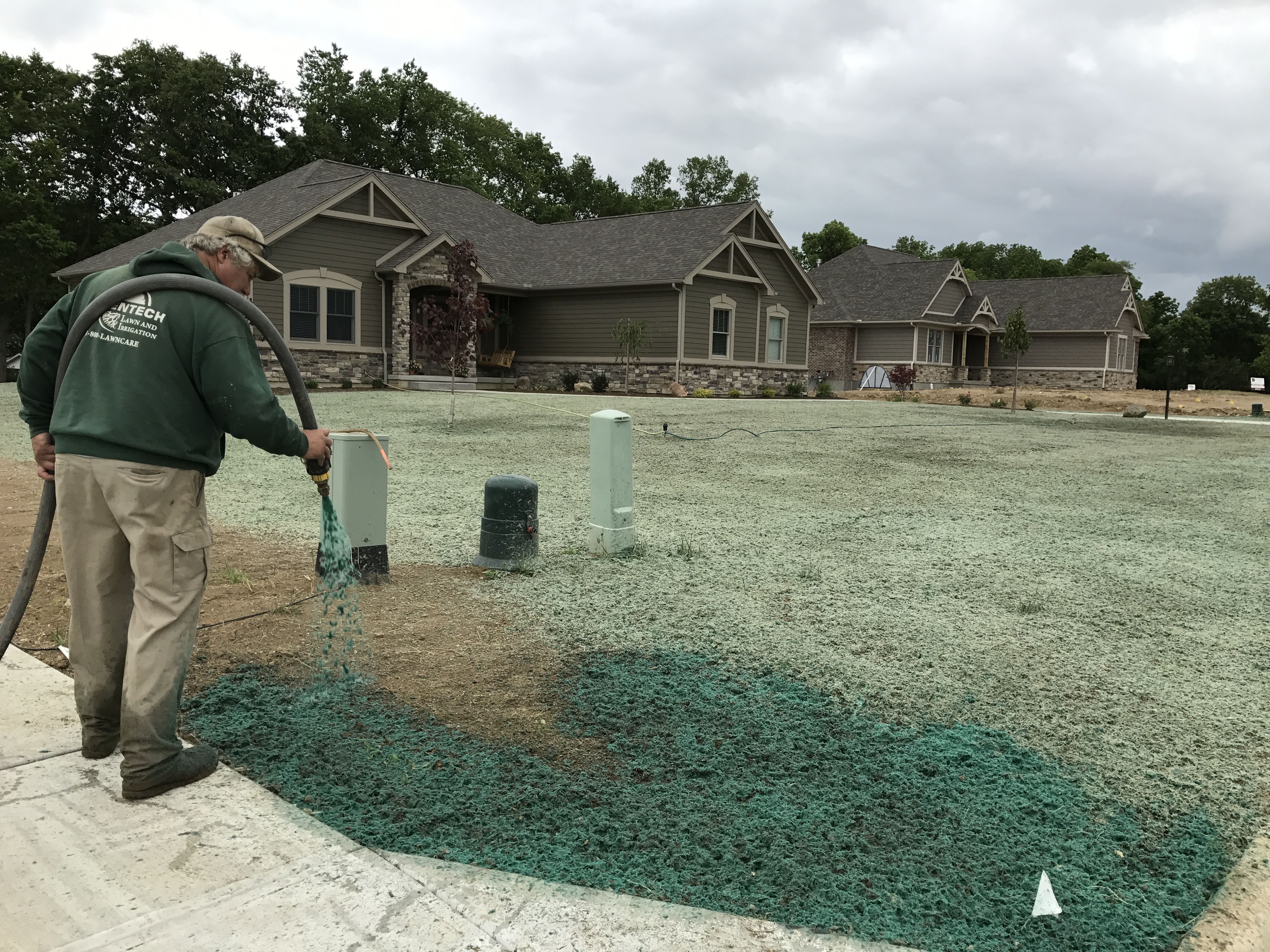 Why Do You Need To Seed Your Lawn?
Summer Heat
The hot summer days can wreak havoc on even the healthiest of lawns, causing dead spots to appear.
Fortunately, restoring your lawn to its natural full and vigorous luster is possible when you trust the seeding and sod experts at Greentech Lawn and Irrigation.
Thin Turf
While skinniness is something many humans aspire to, thin grass is not an ideal addition to an otherwise hearty lawn. The lawn specialists at Greentech Lawn and Irrigation will fatten up thin turf with overseeding and aeration.
New Builds
Greentech Lawn and Irrigation offers professional overseeding and slice seeding services to create a beautiful lawn for your new home. Also, our experts will lay superior sod for a lush lawn that will grow rapidly and last for years.
Yard Renovations
Has your lawn lost its former glory?  Let the experts at Greentech Lawn and Irrigation evaluate the treatments you'll need to refresh or start over. With a process called slice seeding, we can ensure your seeds properly plunge deep into the soil.  Our experts can also lay fresh sod all over your yard or in spots that need the most attention.
Connect With Us Today
At Greentech Lawn And Irrigation in Troy, OH we want you to benefit from a lush and lovely lawn that will make your neighbors emerald with envy.  
Fill out our secure online form or call and speak to one of our friendly professionals. We're pleased to serve residents in the great cities of:
Columbus, OH

Dublin, OH

Beavercreek, OH

Lima, OH

Huber Heights, OH

Westerville, OH

Centerville, OH

Sidney, OH

Piqua, OH

Springboro, OH

Vandalia, OH
Contact us today to get the perfect program for your yard.